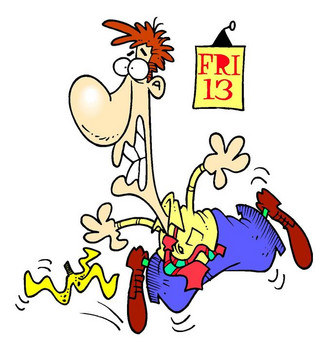 Do you suffer from triskaidekaphobia, paraskevidekatriaphobia or friggatriskaidekaphobia? In other words are you afraid of the number 13 or Friday the 13th? More importantly, can you code for those fears?
Surprisingly, ICD-10-CM does not have a specific code for the fear of the number 13 (triskaidekaphobia) or fear of Friday the 13th (paraskevidekatriaphobia or friggatriskaidekaphobia). If your physician documents any of these phobias, you would report ICD-10-CM code F40.298 (other specified phobia). So even though the code doesn't specify the phobia, the documentation does.
If the physician documents a generic phobia, but doesn't say what the patient is specifically afraid of, you would have to default to the unspecified code F40.9 (phobic anxiety disorder, unspecified). Of course before you do that, you should query the physician. Maybe you'll find out your patient is really afraid of injections and transfusions (F40.231), small spaces (F40.240), or spiders (F40.210).
So don't break any mirrors or walk under any ladders today and absolutely, positively avoid black cats. If you believe in that bad luck stuff that is.